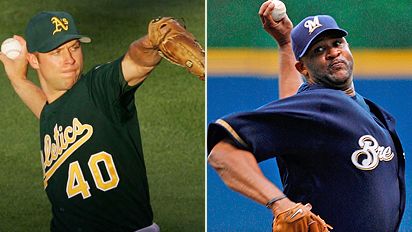 Excited Cubs fans believe they have their man in Rich Harden. They're congratulating themselves for "countering" the Brewers signing of CC Sabathia. Similarly, the Clippers may try to "counter" the loss of Elton Brand with the signing of Josh Smith. Just as this Tyler Hansbrough right hook might counter a Muhammad Ali jab. CC is not Ali, but he could be Brand. Both are veterans with solid stats and Harden, while no Psycho T, can electrify like Josh Smith, but without the battle testing of a veteran.

CC has been a workhorse, averaging 202 innings pitched for the last five years. He's had just two stints on the 15-day disabled list during that time, and both were arm soreness to start the season. He's got 19 career complete games (17 in the last five years), and routinely pitches at least 7 innings. Compare these numbers to Harden and we see he's just not in the same class. Harden has averaged just less than 93 innings pitched for his career. Part of that low number is attributable to injuries. Harden has spent time on the DL every year since 2005, including shutting it down last season due to a strained right shoulder (coincidentally at just this point in the season). Harden's also gone past the seven inning mark just once this season, and amassed just 2 complete games and none since 2005.

Harden is a very good pitcher, a better strikeout pitcher than Sabathia, but with bullpen rest such an integral part of any successful pennant chase, CC stands head and shoulders above Rich. Forgive me Cubs fans, but I'll take two work horses like CC Sabathia and Ben Sheets at the top of my rotation over two injury-prone guys like Wood and Prior, oops, I mean Zambrano and Harden. Yes Cubs fans, we've been here before. The Harden pickup was a nice one, but by no means an effective counter. The NL central remains up for grabs, but Milwaukee won this exchange, make no mistake about it.