I was preparing to write some NFL Divisional previews, but I got distracted by this instead. This is off of memory so there might be some great fictitious QBs I'm leaving out but the question is always posed: who do you want to build your franchise around? Let's examine the scouting report on these make-believe signal callers

Johnny Utah



College: Ohio State
Current Status: FBI Agent
Last Game: Football on the beach with Bodhi and the ex-presidents

Positives: The kid is a go-getter, he will risk anything to get the job done. Great arm. Tremendous athlete, he has been surfing to stay in shape so conditioning shouldn't be too much of a problem. Also has great hair.

Negatives: The knee, oh those knee injuries. Latest blow was falling out of an airplane and pulling the parachute cord seconds before he landed. Amazingly he didn't die even though he probably would have hit the ground at a tremendous speed, but sadly he did land on the knee. Would have to get him away from FBI, perhaps a trade could be worked out or some kind of buyout. Also, he was dating Lori Petty.

Outlook: The kid is tough; he has got the killer mentality but the control to be on the right side of the law. The knee is a huge concern though and with the damage done it is a huge risk to roll the dice on this guy as the QB of the future. But that arm, dude….whoa.


Paul Blake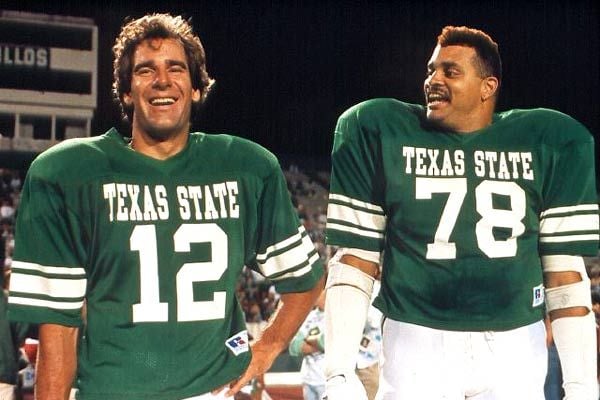 College: Texas State University
Current Status: Sophomore
Last Game: Led TSU to a victory over the heavily favored number 1 Texas Colts.

Positives: He's got experience, lots of experience. Heck, he has even traveled back in time and assumed the bodies of other people (including women) in order to rectify certain situations. He has the physical tools, and his body is not battered despite his age. He has been taking it easy on the farm but still throws the ball through his tire swing every now and then. He was also coached well at TSU by Ed "Straight Arrow" Genero.

Negatives: He is old, at 34 he only has a few more good years in him, unless he is Favre-like. The one season may have been an aberration as well. He also quit on the team halfway through the season, so he may have commitment issues.

Outlook: It may be a quantum leap for Blake to adjust to the NFL game, but with his experience he may be able to do it. It's never bad to begin the franchise with a crafty veteran at the helm. He also was able to thrive despite having the female place kicker, clearly succeeding where Gary Barnett and Katie Hnida failed. Worse case he mentors the young back-up QB and can even serve as the back-up when the young one takes his place.


Joe Kane


College: ESU
Current Status: Senior
Last Game: Led ESU to a last second victory which made them bowl eligible.

Positives: Seems to be a theme with this list, but he's got a great arm. He's also mobile and has all the physical tools. Able to keep his head through a tough season and home situation, the kid is resilient.

Negatives: Well, the kid has a drinking problem; got busted for DUI this past season. Also may have a problem dealing with big time pressure. He threw an INT in the last minute to lose to Michigan and his heisman rival.

Outlook: Coach Sam Winters was the real glue that held that team together through the tough season, but Kane did the work on the field. This guy is definitely an unknown; he will either flourish or end up drunk in a ditch. Also, Kristy Swanson looks better with blonde hair.


Jonathan Moxon


College: Brown University (incoming freshman)
Current Status: High school senior
Last Game: Led the West Canaan Coyotes to the division title.

Positives: Intelligent, physically gifted, and a great leader. If only he could tell Joey how he feels and forget what was between her and Pacey…..sorry got off-track there. Mox is the kind of QB that cares about his teammates and stays cool under pressure because he does not take the game too seriously.

Negatives: He doesn't want your life. Football seems to be secondary to his life aspirations. He wants to get out of small town Texas, but who doesn't. May be questionable whether he plays at Brown or not and he only has one season as a starter under his belt.

Outlook: The kid has the guts to win the big game and to stand up to Bud Kilmer. If he can get his head straight at Brown and play football, he could develop into on of the best QBs ever to come out of the Ivy League and join his fellow Brown alums Zak DeOssie, Sean Morey, and Paul Raymond in the NFL. Also, Amy Smart looks better with blonde hair.


Paul Crewe (the real one)



College: FSU
Current Status: Prison
Last Game: Led the "Mean Machine" to victory over the prison guards

Positives: Another guy who has all the tools. He is incredibly tough but mentally unstable. Has learned to become a leader and the importance of the game, resisting another chance to tank a game.

Negatives: The point-shaving incident is hard to overlook. If he did it once, it may happen again. He also currently resides in prison. If he were to be brought out he would most likely be out of football shape.

Outlook: Since the warden is a big football fan, I'm sure he could be appeased and let Crewe out on time. Maybe give his prison guards a try-out or give him a luxury box. We don't know how Michael Vick will do when he gets out of prison but this might be a good barometer, Paul should quickly get back in shape and the public seems like they might forgive him after the show he put on against the guards. He is a risk but the payoff could be huge.



Shane Falco


College: Ohio State
Current Status: Finished season as replacement player for the Washington Sentinels
Last game: Led the Sentinels to victory over the Dallas Ropers

Positives: Similar build to Johnny Utah, eerily similar. He, of course, has the tools, talent, and hair to lead the team to victory.

Negatives: Dude is a flip-flopper. Seems to shrink away in the big moment. Choked in the Sugar Bowl in college and failed in his first pro gig. He did win the big game against Dallas but how will he react if he ever makes the playoffs or Super Bowl?

Outlook: Doug Flutie, Steve Young were both able to come from non-NFL leagues and flourish (Young more so). So who's to say Falco can't. He may be a risk in big game situations though. Also, these Ohio State quarterbacks don't seem to flourish in the NFL lately (I'm looking at you Herbstreit) unless Troy Smith can do it with the Ravens.


Steamin' Willie Beamen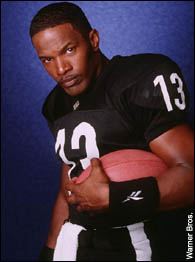 College: Houston
Current Status: signed free-agent contract with the San Diego Aztecs
Last Game: Lost in the Pantheon Cup Playoffs

Positives: Many, including film-maker Oliver Stone, liken his game to Jeff Blake. He is mobile and athletic. Has great ability to audible.

Negatives: He might just be a system QB under Coach Tony D'Amato, and his accuracy is suspect at times. He also has complained of shoulder soreness.

Outlook: With only half a season under his belt it is tough to judge his potential. Since he signed a new contract with the Aztecs it will be tough to lure him away to the NFL. I would put him low on the list of target quarterbacks.


Tami Maida



College: (still in high school)
Current Status: Homecoming Queen
Last Game: Lead Minnville High to the state championship

Positives: She's tough, and she has a winner's attitude. Great flexibility.

Negatives: Might be a negative psychological effect on the team by adding a female at the QB position. Unknown as to how tough Oregon high school football is, her level of success may be harder to come by in the NFL. It would be a media attention grabber and become a circus so bad Rachel Nichols might end of accosting her as she entered her practice car.

Outlook: She can't be drafted until she comes of age, if there is a college that would give a shot to start, then she could be evaluated. She is a great story but I just don't know if I'm mad about her.